Adobe InDesign CS6
General Information
Imagine publishing your own novels or e-books online with ease. With the well-integrated graphic design and digital printing, Adobe InDesign has made the online publishing a reality.
A powerful typesetting software, Adobe InDesign is the best tool for creating publications and e-books. This certification tests Adobe InDesign CS6, which was released by the Adobe Corporation, at the user's interface. Our team of experts incorporated the essential knowledge and skills necessary for the proficiency of the InDesign CS6. For the newly graduated students, using Adobe InDesign CS6 to create an excellent cover letter, the text plus illustrations or even with an animated self-introduction in your portfolio will certainly bring you more attentions and job offers in this competitive market.
Examination Content
Setting up and creating documents
Component handling
Text Editing
Color
Images Editing
Making forms
Exporting and saving as other document types
Saving as PDF
Making E-books
Examination Date and Registration
Please consult your national distributor.
Certificate Sample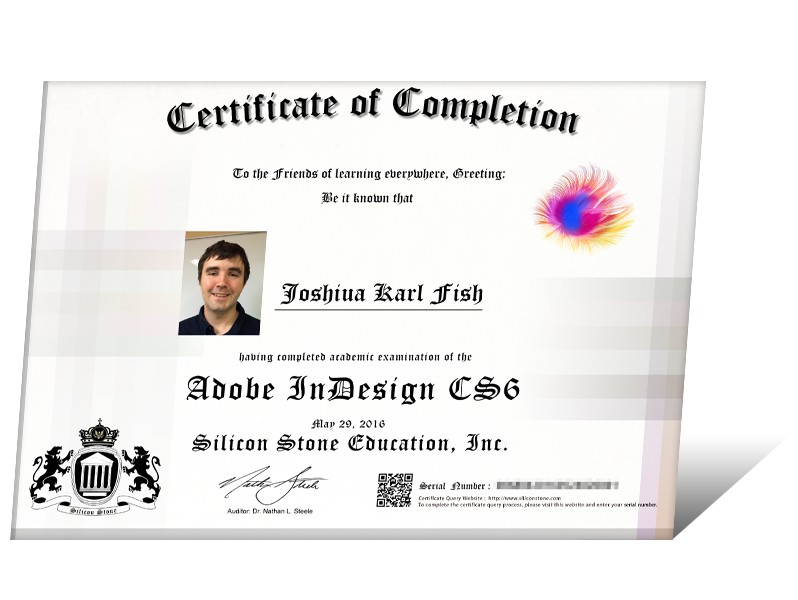 Scoring
The exam contains a total of 60 questions.
20 true and false, 35 multiple choices and 5 multiple responses.
Each question is worth 20 points, leads to full score of 1200 points.
Minimum passing score is 840 points.
Examination Time
60 minutes