Adobe Dreamweaver CS 6
General Information
When Facebook was invented, it revolutionized the traditional marketing approaches and linked the online social communities. Now the business opportunities can go beyond the country's boundaries and even time differences through the internet. Promoting one's products and services online is now a basic requirement and only the people who can grasp this juncture can stand out in today's market.
With the Adobe Dreamweaver CS6's building-in functions such as animation effects and multimedia videos, the designers can create websites with ease. The cross-platform and cross-browser allow the websites to be easily adapted to smart phones, tablets or any 3C products. The FTP transmitting tools allow your websites to be immediately published. For the newly graduated students, having the Adobe Dreamweaver in your portfolio will assure your competitive edge and a future success in the online world.
Examination Content
Defining websites
Building and modifying document properties
Modifying texts and images and their properties
Creating web samples
Using basic HTML tags to build HTML documents
Knowledge of HTML
Creating forms and image maps
Adding animation and interactive functions
Adding videos and sound effects
Creating web content, using hyperlinks and email links, and naming tags
Knowledge of DIV tags and CSS types
Knowledge of SEO (Search Engine Optimization)
Examination Date and Registration
Please consult your national distributor.
Certificate Sample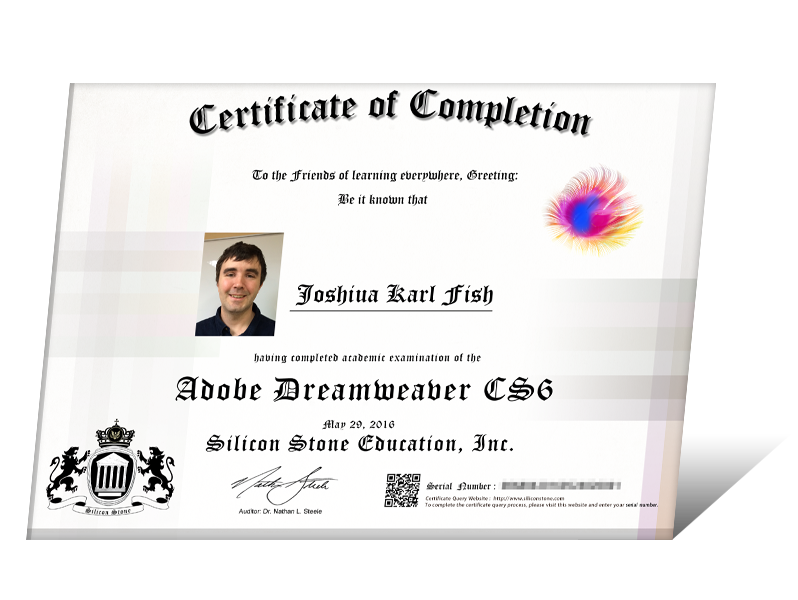 Scoring
The exam contains a total of 60 questions.
20 true and false, 35 multiple choices and 5 multiple responses.
Each question is worth 20 points, leads to full score of 1200 points.
Minimum passing score is 840 points.
Examination Time
60 minutes