Adobe Premiere CC
General Information
The difference between an amateur video film maker and a professional director is in the production. Editing, adding a soundtrack, special effects and subtitles are the most basic steps in order to create a quality film. With the streamlined editing and special effects dominating today's filming industry, Adobe Premiere CC allows the users to process the films with ease.
This certification takes Adobe Premiere CC, released by the Adobe Corporation, as its user's interface. Our team of experts incorporated the essential knowledge and skills necessary for the proficiency in using Premiere CC, namely editing, clipping, transition, special effects, subtitle, and exporting of videos and audio, into the examination. For newly graduated students, having the Adobe Premiere CC assures you the necessary skill for the competitive job market.
Examination Content
Transitions
Video composition
Creating dynamic special effects
Designing Subtitles
Operating time
Film color
Project management
Video export and application
Examination Date and Registration
Please consult your national distributor.
Certificate Sample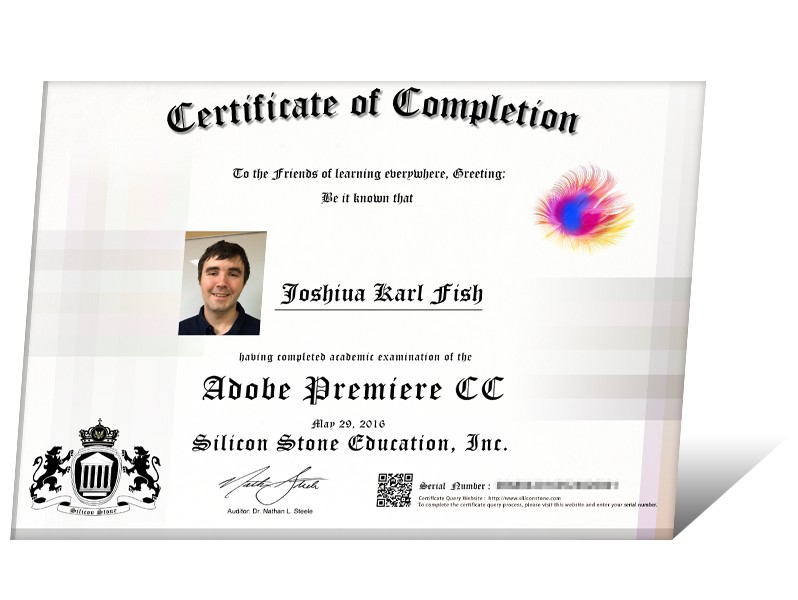 Scoring
The exam contains a total of 60 questions.
20 true and false, 35 multiple choices and 5 multiple responses.
Each question is worth 20 points, leads to full score of 1200 points.
Minimum passing score is 840 points.
Examination Time
60 minutes