Cinema 4D Essential
General Information
A highly efficient 3D animation software, Cinema 4D is rapidly gaining popularity in the field of industrial design, product design, film special effects, and animation movies, and the BodyPaint 3D and MoGraph in the Cinema 4D are known to be the pioneer 3D special effect tools in the related industries.
This test serves as a verification of your understanding in the Cinema 4D. Passing this test certifies your capability in operating Cinema 4D and your qualifications in the 3D animation field. This important certification will promote your career advances, especially in the field of TV and film productions.
Note: This test is based on the Cinema 4D Studio R16, suited for Cinema 4D Studio R16 and future releases.
Examination Content
Interface manipulation
Modeling
Materials & Textures
Lights
Camera
Animation
Physical Sky & Cloud
MoGraph basic
BodyPaint 3D basic
Dynamic Basic
Character Basic
Cloth Basic
Hair Basic
Particles basic
Rendering
Examination Date and Registration
Please consult your national distributor.
Certificate Sample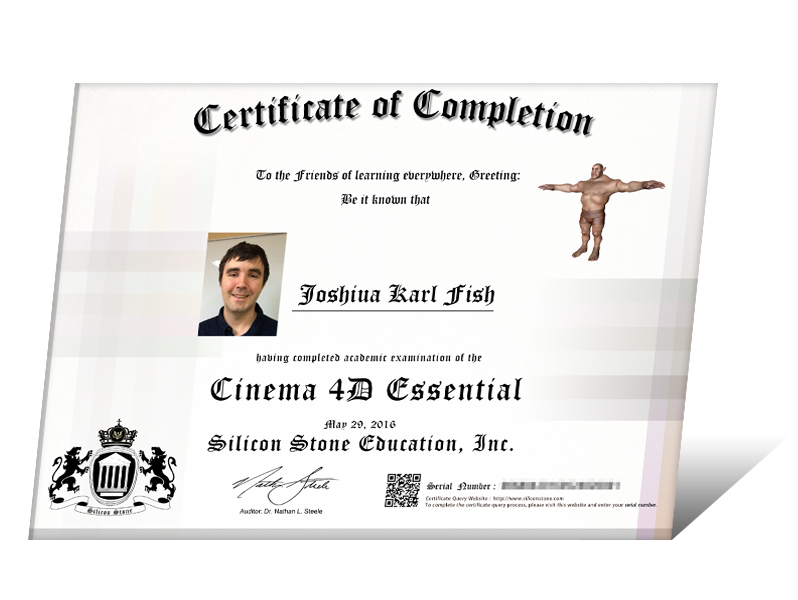 Scoring
The exam contains a total of 60 questions.
20 true and false, 40 multiple choices.
Each question is worth 20 points, leads to full score of 1200 points.
Minimum passing score is 840 points.
Examination Time
60 minutes