Hotel and Lodging Management
General Information
As the modern technology advances and people becoming more affluent, today's consumers are no longer willing to settle for just the basic day to day living. Traveling has become affordable to many and that gave a boost to the development of the hotel and lodging industry.
In order to bring out more professional hotel management personnel, Silicon Stone has developed a certification concentrated on knowledge necessary for any professional hotel management trainee. We believe our Hotel and Lodging Management International Certification will become the standard in the Hotel industry.
Examination Content
Knowledge on Hotel and Lodging industry
Hotel organization structure
Knowledge on Room department
Knowledge on Housekeeping department
Hotel Sales
Knowledge on Catering Services
Franchise and management contracts
Special feature hotels
Knowledge on hotel finance
Examination Date and Registration
Please consult your national distributor.
Certificate Sample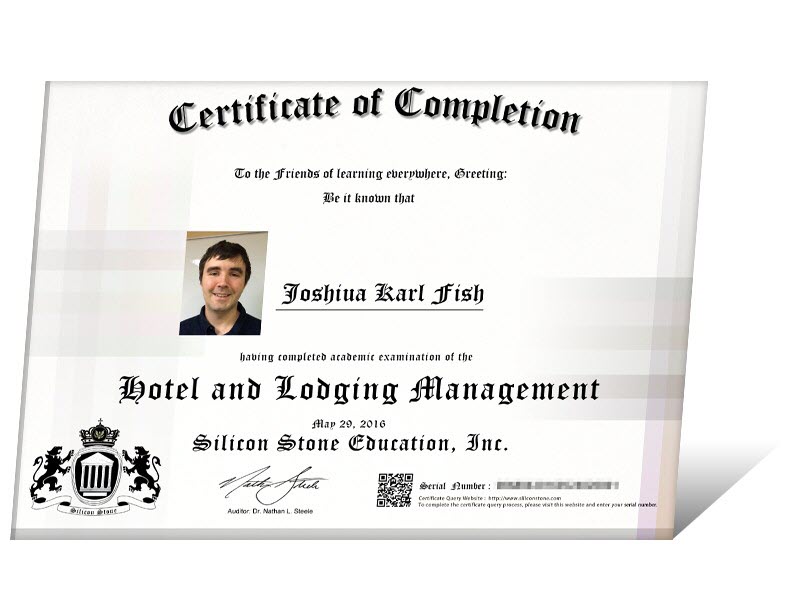 Scoring
The exam contains a total of 80 questions.
40 true and false, 40 multiple choices.
Each question is worth 10 points, leads to full score of 800 points.
Minimum passing score is 560 points.
Examination Time
60 minutes