Elite Bartender
General Information
Created by the Silicon Stone Education, the Elite Bartender Certification is a professional level certification which requires passing the Bartender Academic test first before entering this exam. This exam has two parts, the Alcohol Identification and the Cocktail Making.
Examination Content
Alcohol Identification (total of 10 types).
Brandy series consists of three types: Brandy Alexander, Horse's Neck, and Sidecar
Gin series consists of three types: Gin Fizz, Martini, and Singapore Sling
Liqueur series consists of three types: B-52 Shot, Caipirinha, and Grasshopper.
Rum series consists of three types: Cuba Libre, Daiquiri, and Mojito
Tequila series consists of three types: Frozen Margarita, Long Island Iced Tea, and Tequila Sunrise.
Vodka series consists of three types: Bloody Mary, Cosmopolitan, and Screwdriver.
Whisky series consists of three types: Irish Coffee, Manhattan, and Old Fashioned.
Examination Date and Registration
Please consult your national distributor.
Certificate Sample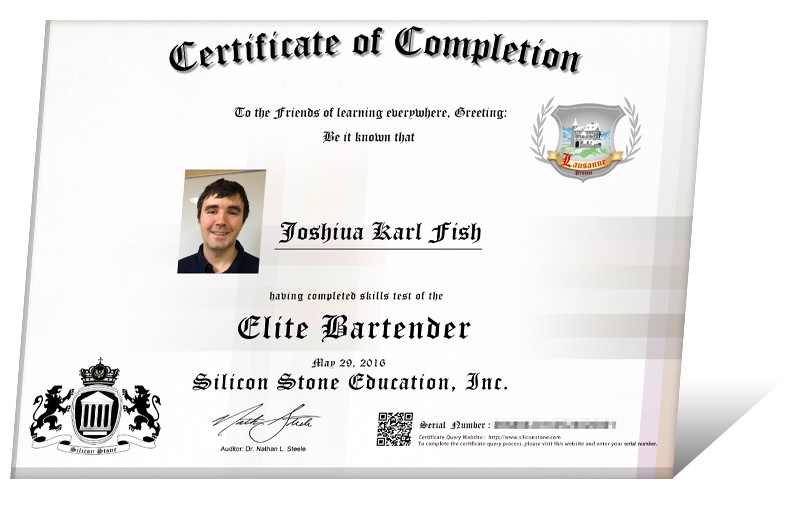 Scoring
Dress and appearance etiquettes make up a total of 15 points.
Appropriate dress code includes appropriate clothing, nail length, unpainted nails, no jewelry or watches, and neat and clean hair.
Persons passing this item get 15 points, failing to abide by dress etiquettes result in a zero.
Persons who fail may improve then take the test again.
In Alcohol Type Identification part, there are 10 questions, each question is worth 6 points, up to a total of 60 points.
The passing grade for this section is 36 points or above, inability to meet this grade is seen as fail.
Cocktail making is worth 25 points per question, the passing grade per question is 17 points or above and one must pass at least 4 questions in order to pass the entire section.
The exam is 250 points in total, the passing grade is 150 points.
Examination Time
60 minutes