Barista
General Information
I still remember the first time I tried coffee, it left a great impression on me. Just like so many people, coffee quickly became an important part of my daily routine. Through the countless nights of book cramming in college, coffee was my best companion.
When I grew older, I started to appreciate coffee on a deeper level. The beans, the blends, the origins, the grinding techniques and the brewing times all played a crucial element in the final flavor and aroma. Now I have the opportunity to create the Lausanne Barista program for the Silicon Stone, it holds a special meaning to me personally.
For the Barista, academic certification, our team of experts have created a wide range of questions and techniques a Barista should know. We all agreed that a responsible coffee specialist should have all the knowledge in order to succeed in the business. We have also included information like operating different types of coffee makers, understanding the proper hygiene and the coffee drinking etiquette into the exam.
We are confident that the Lausanne Boutique Barista Certification will become the authority in the global hospitality industry.
Examination Content
Geography and History of Coffee
Selection and Processing of Coffee Beans
Grinding and Brewing Methods
Coffee Beverage Types and Characteristics
Benefits for the Human Body
Bar Cleaning Procedures, Job Preparation, Rehabilitation Work, Safety and Health
Procedures
Examination Date and Registration
Please consult your national distributor.
Certificate Sample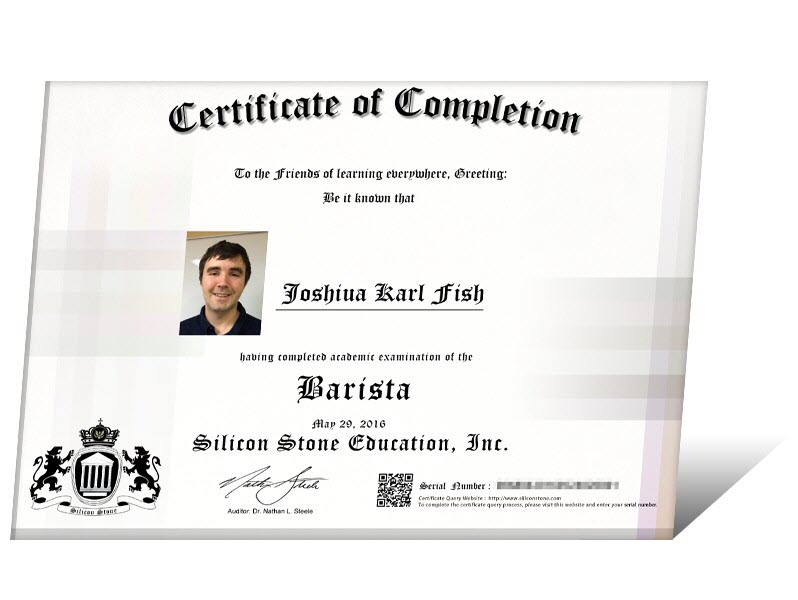 Scoring
The exam contains a total of 60 questions.
30 true and false, 30 multiple choices.
Each question is worth 20 points, leads to full score of 1200 points.
Minimum passing score is 840 points.
Examination Time
60 minutes